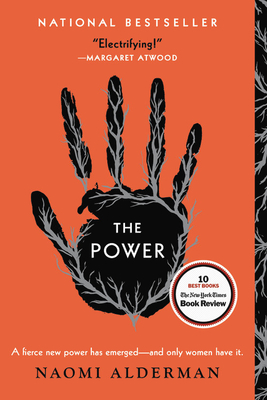 $18.99

In Stock at Our Warehouse - Usually Ships in 1-5 Days
Staff Reviews
---
This was a pretty amazing gender role swap of a book. I love the realistic view that if women were physically more powerful than men, some of them would commit the same atrocities that men do now, taking advantage of that power. The writing is lovely, and I enjoyed the multiple points of view. I think this is a great book for thinking on the boundary between feminism and man-hating, in that it brings us all level. Also, no spoilers, but the ending took me by surprise.
— Anna Butterfras - Katy Budget Books
Description
---
In this stunning bestseller that inspired the Amazon Prime series, praised as "our era's Handmaid's Tale," a fierce new power has emerged—and only women have it (Washington Post). 

In The Power, the world is a recognizable place: there's a rich Nigerian boy who lounges around the family pool; a foster kid whose religious parents hide their true nature; an ambitious American politician; a tough London girl from a tricky family.

But then a vital new force takes root and flourishes, causing their lives to converge with devastating effect. Teenage girls now have immense physical power: they can cause agonizing pain and even death. And, with this small twist of nature, the world drastically resets. From award-winning author Naomi Alderman, The Power is speculative fiction at its most ambitious and provocative, at once taking us on a thrilling journey to an alternate reality, and exposing our own world in bold and surprising ways.

"Captivating, fierce, and unsettling...I was riveted by every page. Alderman's prose is immersive and, well, electric." —New York Times Book Review
About the Author
---
Naomi Alderman is the recipient of the 2017 Baileys Women's Prize for Fiction for The Power. She is also the author of The Liars' Gospel and Disobedience, which won the Orange Prize for New Writers, has been published in ten languages, and has been made into a film by Rachel Weisz.

Alderman was selected for Granta's once-a-decade list of Best of Young British Novelists and was chosen by Margaret Atwood as part of the Rolex Mentor and Protégé Arts Initiative. She is the cocreator and lead writer of the bestselling smartphone audio adventure app Zombies, Run! She contributes regularly to The Guardian and presents Science Stories on BBC Radio 4. She lives in London.
Praise For…
---
Praise for THE POWER:

"Electrifying! Shocking! Will knock your socks off! Then you'll think twice, about everything."—Margaret Atwood

"Magnificent. I'm agog. I'm several gogs. Smart and scary and sad but true. It's
a classic, in the way that it's hard to imagine it ever wasn't there."—Joss Whedon

"Alderman has written our era's Handmaid's Tale, and, like Margaret Atwood's classic, The Power is one of those essential feminist works that terrifies and illuminates, enrages and encourages....This book sparks with such electric satire that you should read it wearing insulated gloves."—Ron Charles, Washington Post

"Narratively complex, philosophically searching,
and gorgeously rendered."—Lisa Shea, Elle

"Fierce and unsettling...Through immersive prose and a riveting plot, Alderman explores how power corrupts everyone: those who gain it, and those resisting its loss."—Radhika Jones, New York Times Book Review

"Richly imagined, ambitious, and propulsively
written."—Sophie Gilbert, The Atlantic

"Alderman's writing is beautiful, and her intelligence seems almost limitless. She also has a pitch-dark sense of humor that she wields perfectly."—Michael Schaub, NPR

"Alderman's tilted dystopia is a smartly layered place of slippery slopes and moral ambiguities, a fitting folktale for strange times."—Leah Greenblatt, Entertainment Weekly

"I was riveted by every page. Alderman's prose
is immersive and, well, electric, and I felt a closed circuit humming between
the book and me as I read."—Amal El-Mohtar, New York Times Book Review

"An instant classic of speculative fiction... Smart, readable and joyously achieved."
—Justine Jordan, Guardian

"Bold and disturbing...it's not just a book of the moment. The Power is a major innovation in the overlapping genres of feminist dystopia/utopia, science fiction, and speculative fiction."—Elaine Showalter, New York Review of Books

"Fans
of speculative fiction (see also: Margaret Atwood and Ben Marcus) about
empowered youth will be struck by Alderman's speedy and thorough inhabitation
of a world just different enough from ours to jolt the imagination. Mothers,
lock up your boys."—Sloane Crosley, Vanity Fair

"Alderman has the daring and good sense to
eschew go-girl uplift in favor of terrifying and complex dystopia."—Boris Kachka, Vulture/ New York Magazine

"A suspenseful thrill ride filled with deep, contrasting female leads on a scaffolding of philosophical questions about how different men and women are at heart....Reminiscent of the work of Alderman's mentor Margaret Atwood, The Power is perfect for book clubs, where readers will undoubtedly debate the finer points of nature versus nurture."—Jaclyn Fulwood, Shelf Awareness

"The Power is stupendous. It's gorgeously written, endlessly exciting, fun, and frightening."
—Ayelet Waldman, author of A Really Good Day

"The Hunger Games crossed with The Handmaid's Tale."
—Cosmopolitan

"What starts out as a fantasy of female empowerment deepens and darkens into an interrogation of power itself, its uses and abuses and what it does to the people who have it... Alderman's breakout work."
—Claire Armitstead, Guardian

"Outstanding... Alderman imagines a world much like ours, with one difference: teenage girls suddenly have the ability to electrocute people. This is the perfect read if you've been itching for something to get you through to season two of The Handmaid's Tale."—Melissa Ragsdale, Bustle

"The Power is at once as streamlined as a 90-minute action film and as weirdly resonant as one of Atwood's own early fictions... Alderman has conducted a brilliant thought experiment in the nature of power itself...Turning the world inside out, she reveals how one of the greatest hallmarks of power is the chance to create a mythology around how that power was used."—John Freeman, Boston Globe

"This is a thriller that terrifies and leaves behind a
lingering tingle that's part discomfort and part exhilaration. Easy to read,
hard to put down, difficult to forget."—Cory Doctorow, Boing Boing

"The Power is a subtly funny, lyrical and utterly subversive vision of an impossible future. As all the best visionaries do, Alderman shines a penetrating and yet merciful light on to our present and the so many cruelties in which we may be complicit."—A.L. Kennedy

"Please, please, PLEASE read Naomi Alderman's The Power. It'll crack your brain open in all the right ways. Such an important, timely book."
—Literary Death Match

"Audaciously depict[s]...the most extreme
results of a movement that seeks rather than interrogates power: That if
feminism has become a means for domination, it has lost its way."—Bridget Read, Vogue

"Ingenious....Deserves to be read by every woman (and, for that matter, every man)."
—Francesca Steele, The Times UK

"A page-turning thriller and timely exploration of gender roles, censorship and repressive political regimes, The Power is a must-read for today's times."—Lauren Bufferd, BookPage

"Gripping and disturbing, it pushes the reader -- even the confidently feminist reader -- to question the assumptions underlying many of the mechanisms that drive relationships between women and men."
—Harper's Bazaar UK

"Alderman's storytelling is visceral and brave; you'll stay up all night reading after a thousand deals with the clock that you'll put it down after just a few more pages. Gleeful, intelligent, clever, and unflinching, The Power is the kind of book to keep a person going."—Fiona Zublin, Ozy

"A searing critique of how power is used in a world in which a long-oppressed class can suddenly fight back."—Renay Williams, Barnes & Noble Blog

"By gleefully replacing the protocols of one gender with another, Alderman has created a thrilling narrative stuffed with provocative scenarios and thought experiments. The Power is a blast."

—Suzi Feay, Financial Times UK

"When we say that The Power is profoundly disturbing and you may well want to argue with it as you read, we mean that in a good way."
—SFX, Five Stars