Broken Illusions (Paperback)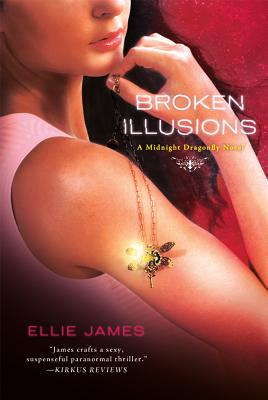 Other Books in Series
This is book number 2 in the Midnight Dragonfly Novels series.
Description
---
The next exciting novel in the thrilling new Midnight Dragonfly series from Ellie James
It's almost Mardi Gras, but for 16 year-old psychic Trinity Monsour this is no time for celebration. Another girl is missing. Tormented by visions she doesn't understand of an empty street lined by crumbling old buildings, a terrified voice warning her to be careful, and a body lying motionless in the grass, Trinity embarks upon a dark odyssey she could never have imagined. She'll stop at nothing to better understand her abilities, convinced that doing so is the only way she can make sure the terrifying images she sees never actually happen. But it seems everyone wants to stop her. Her aunt is worried Trinity might discover secrets best left in the past. Her best friend, Victoria, is afraid Trinity is slipping away, her boyfriend, Chase, fears she's taking too many chances, and the lead detective will barely let her out of his sight. Only one person stands by her side, and in doing so, he slips deeper and deeper into her heart and her dreams blurring the lines of reality and illusion. When the dust settles, one of them will be dead.
About the Author
---
ELLIE JAMES believes in dreams and destiny. A graduate of the LSU Manship School of Journalism, Ellie has been writing as long as she can remembering, with tragic poems and tender stories giving way to mystery, adventure, and a fascination with the unexplained. Currently, Ellie resides with her husband and two children in Texas.
Praise For…
---
"With this steamy second installment, the Midnight Dragonfly series continues to sizzle. In addition to the thrill factor, an effective balance of quick dialogue and occasional text messages with rich descriptions of the gothic New Orleans setting and Trinity's visions makes for an absorbing read. Fans of paranormal thrillers and romances will find plenty to love in this gripping series."--Kirkus Reviews on Broken Illusions