With a Mind to Kill: A James Bond Novel (Hardcover)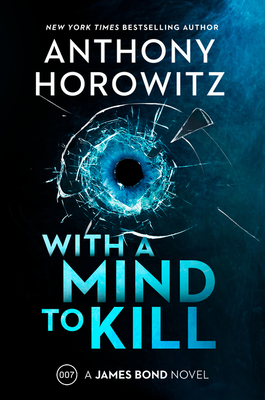 $26.99

In Stock at Our Warehouse - Usually Ships in 1-5 Days
Description
---
"It's almost uncanny how well Mr. Horowitz summons Bond's mindset . . . Yet this Bond also feels the winds of change: 'He had his licence to kill. But was it possible that in this new, more questioning age, that licence might have expired?' A drop of retro pleasures, a pinch of things to come; shaken, not stirred." — Wall Street Journal
Internationally bestselling author Anthony Horowitz's third James Bond novel, after Forever and a Day.
It is M's funeral. One man is missing from the graveside: the traitor who pulled the trigger and who is now in custody, accused of M's murder—James Bond.
Behind the Iron Curtain, a group of former Smersh agents want to use the British spy in an operation that will change the balance of world power. Bond is smuggled into the lion's den—but whose orders is he following, and will he obey them when the moment of truth arrives?
In a mission where treachery is all around and one false move means death, Bond must grapple with the darkest questions about himself. But not even he knows what has happened to the man he used to be.
About the Author
---
ANTHONY HOROWITZ is the author of the US bestselling Magpie Murders and The Word is Murder, and one of the most prolific and successful writers in the English language; he may have committed more (fictional) murders than any other living author. His novel Trigger Mortis features original material from Ian Fleming. His most recent Sherlock Holmes novel, Moriarty, is a reader favorite; and his bestselling Alex Rider series for young adults has sold more than 19 million copies worldwide. As a TV screenwriter, he created both Midsomer Murders and the BAFTA-winning Foyle's War on PBS. Horowitz regularly contributes to a wide variety of national newspapers and magazines, and in January 2014 was awarded an OBE.
Praise For…
---
"It's almost uncanny how well Mr. Horowitz summons Bond's mindset . . . Yet this Bond also feels the winds of change: 'He had his licence to kill. But was it possible that in this new, more questioning age, that licence might have expired?' A drop of retro pleasures, a pinch of things to come; shaken, not stirred." — Wall Street Journal
"I'll tell you who's an absolutey wonderful writer, Anthony Horowitz. So many brilliant books, lincluding his new Bond novel With A Mind to Kill. — Richard Osman
"Horowitz uses his own brand of fast-paced dialogue and gripping storytelling to revitalize the Bond franchise while working within the confines of Ian Fleming's original world." — BookTrib