Appleseed: A Novel (Hardcover)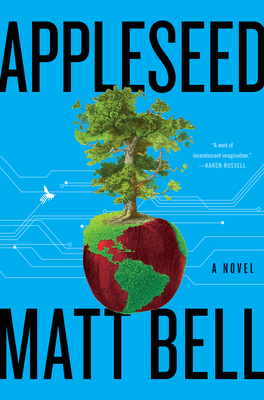 $27.99

In Stock at Our Warehouse - Usually Ships in 1-5 Days
Staff Reviews
---
Appleseed is Matt Bell doing what he does best: putting together some really weird stuff that seems unrelated and making it make sense and be beautiful. This is the kind of book you're going to want to take your time reading to let it roll around your mind a bit. This book is a totally original blend of speculative fiction, dystopian thriller, and reimagined folklore. It's three timelines you think are related by one thing that turn out to be tied together in a totally different way. It's gorgeous and difficult and thought-provoking.
— From
Anna's Staff Picks
August 2021 Indie Next List
---
"This cross between a Shakespeare drama and a Grimm fairy tale is unsettling, attention-grabbing, and thought-provoking in the way stories do so well when reason often fails. A powerful read!"
— Helen Eddy, The Book Shoppe (IA), Boone, IA
Description
---
NAMED A BEST BOOK OF SUMMER BY THE NEW YORK TIMES * USA TODAY * ESQUIRE * PHILADELPHIA INQUIRER * LITERARY HUB * GOODREADS * BUSTLE * BOOK RIOT *
"Woven together out of the strands of myth, science fiction, and ecological warning, Matt Bell's Appleseed is as urgent as it is audacious." --Kelly Link, Get in Trouble
A "work of incandescent imagination" (Karen Russell) from Young Lions Fiction Award–finalist Matt Bell, a breakout book that explores climate change, manifest destiny, humanity's unchecked exploitation of natural resources, and the small but powerful magic contained within every single apple. 
In eighteenth-century Ohio, two brothers travel into the wooded frontier, planting apple orchards from which they plan to profit in the years to come. As they remake the wilderness in their own image, planning for a future of settlement and civilization, the long-held bonds and secrets between the two will be tested, fractured and broken—and possibly healed.
Fifty years from now, in the second half of the twenty-first century, climate change has ravaged the Earth. Having invested early in genetic engineering and food science, one company now owns all the world's resources. But a growing resistance is working to redistribute both land and power—and in a pivotal moment for the future of humanity, one of the company's original founders will return to headquarters, intending to destroy what he helped build.
A thousand years in the future, North America is covered by a massive sheet of ice. One lonely sentient being inhabits a tech station on top of the glacier—and in a daring and seemingly impossible quest, sets out to follow a homing beacon across the continent in the hopes of discovering the last remnant of civilization.
Hugely ambitious in scope and theme, Appleseed is the breakout novel from a writer "as self-assured as he is audacious" (NPR) who "may well have invented the pulse-pounding novel of ideas" (Jess Walter). Part speculative epic, part tech thriller, part reinvented fairy tale, Appleseed is an unforgettable meditation on climate change; corporate, civic, and familial responsibility; manifest destiny; and the myths and legends that sustain us all. 
About the Author
---
Matt Bell is the author of the novels Scrapper and In the House upon the Dirt between the Lake and the Woods, as well as the short story collection A Tree or a Person or a Wall, a non-fiction book about the classic video game Baldur's Gate II, and several other titles. His writing has appeared in The New York Times, Tin House, Conjunctions, Fairy Tale Review, American Short Fiction, and many other publications. A native of Michigan, he teaches creative writing at Arizona State University.
Praise For…
---
"An ambitious, time-bending take on climate change."
— New York Times

"Appleseed is a work of incandescent imagination, at once an eco-horror story about human greed and a regenerative new myth. I loved the soaring possibilities seeded throughout this wild novel, which pushes its readers to imagine 'new ways of dwelling' in and with non-human nature. Bell's book is a chrysalis inside of which I could feel my mind changing, preparing for new flights." 
— Karen Russell, author of Orange World

"Rambuntious....made me think of Jeff VanderMeer and his Area X trilogy, chilling the spine while engaging the heart. Then too, Appleseed's pervading concern for forest ecology recalled Richard Powers and his phenomenal tree-text, "The Overstory." Comparisons like that raise problems — the two older authors are miles apart — but they drive home my point: that Matt Bell has brought off a novel as exciting as any in recent years."
— Boston Globe

"The reason you've never read a book like Appleseed is that there's never been a book like Appleseed. The scary thing, though, is this is a world you might recognize. This premise, this content, this form, this language—only Matt Bell could have given us this novel."
— Stephen Graham Jones, author of The Only Good Indians

"A gripping meditation on manifest destiny and humanity's relationship to this endangered planet, making for a breathtaking novel of ideas unlike anything you've ever read."

— Esquire,