Don't Breathe a Word (Hardcover)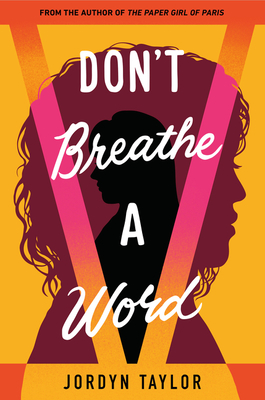 $17.99

In Stock at Our Warehouse - Usually Ships in 1-5 Days
Staff Reviews
---
Don't Breathe a Word by Jordyn Taylor is a gripping thrill ride. I am not usually a thriller reader, but I got sucked in from the first chapter. You know the crime fairly early on, but you still want to know how it all turns out, so you just keep reading until 2:30 in the morning.
I loved that the two main female characters had insecurities and flaws but were still strong. The transition between narrators and timelines was smooth and made sense for driving the story forward. I really enjoyed the romance storyline, even though it was not the driving force. The love interest is the kind of guy I wish I'd gone for as a teen, and I love to see that glorified in books today.
This book has something in it for the thriller reader, romance lover, and anyone who's interested in the Cold War Era nuclear fear. I absolutely recommend it.
— Anna B - Katy Budget Books
Description
---
"A fast-paced, exhilarating story about a boarding school shrouded in secrecy and the girl who will do anything to right the institution's wrongs." —Jessica Goodman, Indiebound bestselling author of They Wish They Were Us
Critically acclaimed author Jordyn Taylor weaves an addictive thriller perfect for fans of Truly Devious.
Eva has never felt like she belonged . . . not in her own family or with her friends in New York City, and certainly not at a fancy boarding school like Hardwick Preparatory Academy. So, when she is invited to join the Fives, an elite secret society, she jumps at the opportunity to finally be a part of something.
But what if the Fives are about more than just having the best parties and receiving special privileges from the school? What if they are also responsible for keeping some of Hardwick's biggest secrets buried?
1962:
There is only one reason why Connie would volunteer to be one of the six students to participate in testing Hardwick's nuclear fallout shelter: Craig Allenby. While the thought of nuclear war sends her into a panic, she can't pass up the opportunity to spend four days locked in with the school's golden boy.
However, Connie and the other students quickly discover that there is more to this "test" than they previously thought. As they are forced to follow an escalating series of commands, Connie realizes that one wrong move could have dangerous consequences.
Separated by sixty years, Eva and Connie's stories become inextricably intertwined as Eva unravels the mystery of how six students went into the fallout shelter all those years ago . . . but only five came out.
About the Author
---
Jordyn Taylor is a New York City–based writer and journalist, currently the deputy editor at Men's Health magazine; her work has appeared in the New York Observer, Mic, and Glamour.com.
Praise For…
---
"A bingeworthy pageturner that will leave readers asking themselves 'What would I have done?'"   — Bulletin of the Center for Children's Books
"A truly fun and riveting page-turner! Don't Breathe a Word has it all—from a fascinating dual-era mystery to a sweet, heartfelt romance… plus a chilling examination of how good people can succumb to brainwashing, both past and present. I couldn't put this book down!"
— Diana Urban, author of All Your Twisted Secrets 
"A fast-paced, exhilarating story. Taylor's plotting prowess is on full display with thrilling twists and unexpected connections. These characters are easy to fall in love with—and root for."  — Jessica Goodman, Indiebound bestselling author of They Wish They Were Us
"Shines a light on the darkness hiding at an elite boarding school and the lengths one girl will go through to join its secret society. Full of mystery and heart, I loved this book!"  — Erin A. Craig, New York Times bestselling author of House of Salt and Sorrows
"A taut mystery that will have readers racing to the end. Jordyn Taylor does a masterful job of weaving the threads of a boarding school's dark past into its twisted present and offers a riveting exploration of how far we'll go to belong." — Katherine Laurin, author of These Vengeful Hearts
"A timely, gut-wrenching story of how easily loyalty turns groups into cults. This suspenseful dual narrative of two iron-willed young women will have you guessing until the end!"  — Adam Sass, author of Surrender Your Sons
"An expertly plotted boarding school mystery." — Kirkus Reviews