The Stranger in the Mirror: A Novel (Hardcover)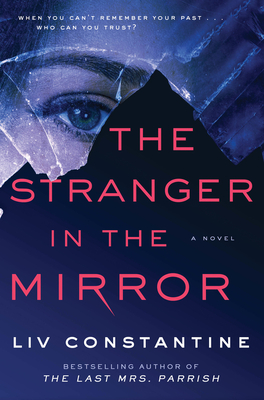 $26.99

In Stock at Our Warehouse - Usually Ships in 1-5 Days
Staff Reviews
---
A jaw dropping twisty thriller that starts out as a slow burn tale of a woman struggling to remember who she is. Meanwhile several hundred miles away, a well respected physician struggles to raise his 7 year old daughter on his own, after his wife disappeared two years prior.
Through a bizarre opportunity the amnesiac woman's life crosses paths with the prominent doctor and life quickly spins out of control.
Shocking twists and gasping moments help propel this outstanding summer thriller as a MUST read.
Great character building, well researched material for basis of the plot, easy to connect with characters and empathize with them.
— From
Karen's Staff Picks
Description
---
A diabolically twisty, psychologically unsettling novel about a woman with no recollection of her past from the authors of the Reese Witherspoon Book Club pick The Last Mrs. Parrish and The Wife Stalker.
"Jaw-dropping twists with an unsettling edge that you'll need a few days at the beach to recover." —Reese's Book Club
Addison's about to get married, but she's not looking forward to the big day. It's not her fiancé; he's a wonderful man. It's because Addison doesn't know who she really is. A few years ago, a kind driver found her bleeding next to a New Jersey highway and rescued her. While her physical wounds healed, Addison's memory never returned. She doesn't know her real name. Or how she ended up injured on the side of a road. Or why she can't shake the notion that she may have done something very, very bad . . .
In a posh home in the Boston suburbs, Julian tries to figure out what happened to his loving, caring wife, Cassandra, who disappeared without a trace two years ago. She would never have left him and their seven-year-old daughter Valentina of her own free will—or would she? 
As these two lives intersect, The Stranger in the Mirror hooks readers with riveting drama, told with Liv Constantine's hallmark blend of glamour, tense psychological thrills, and jaw-dropping twists.
About the Author
---
Liv Constantine is the pen name of sisters Lynne Constantine and Valerie Constantine. Together, they are the bestselling author of the Reese Witherspoon Book Club pick The Last Mrs. Parrish, The Last Time I Saw You, The Wife Stalker, and The Stranger in the Mirror. Their books have been praised by USA Today, The Sunday Times, People Magazine, and Good Morning America, among many others. Lynne and Valerie are national and international bestselling authors and their books have been translated into 27 languages, are available in 32 countries and are in development for television and film.  Lynne lives in Milford, Connecticut; Valerie in Annapolis, Maryland.
Praise For…
---
"Jaw-dropping twists with an unsettling edge that you'll need a few days at the beach to recover."
— Reese's Book Club

"Another addictive psychological thriller. . . . This twist-packed narrative is insanely good and makes us question what it really means to remember."
— Good Morning America

"We're off and running in this twisty tale that makes our mouths drop without our tongues moving to our cheeks. The execution is flawless and the story virtually Hitchcockian in a Vertigo-like way. One of the best books of the summer, if not all of 2021."
— Providence Journal

"Exceptionally twisty. . . . Devilishly smooth and deceptive."
— Toronto Star

"The well-worn trope of a person suffering amnesia receives a fresh update in The Stranger in the Mirror, thanks to appealing characters and Liv Constantine's energetic storytelling. Constantine, the pseudonym for sisters Lynne and Valerie Constantine, has delivered consistently enthralling novels that have deservedly landed on best sellers lists. . . . Constantine imbues this fifth novel with a brisk plot, solid twists and many surprises as the author blends the psychological thriller with a terrifying domestic drama."
— The Sun-Sentinel

"A nail-biting page-turner. . . . a powerful read."
— New York Journal of Books

"Races along like a rocket on steroids. . . . Once you've opened the book, figuring out who Addison Hope is and how she got to Philadelphia will become your reason for waking up in the morning. Just give into it, set aside a day or two, and immerse yourself. But prepare for spine-tingling thrills."
— Book Reporter

"A great addition to your beach bag this summer. Liv Constantine has done it again—creating multi-dimensional characters with some very deep psychological issues. Highly recommended for readers who enjoy twists and turns." 
— Criminal Element

"Gripping!  Equal parts character study and domestic thriller, THE STRANGER IN THE MIRROR makes for a perfect weekend read—a highly enjoyable page-turner where you race to the end, breathless to discover the shocking truth."
— Lisa Gardner, #1 New York Times bestselling author

"The Stranger in the Mirror by Liv Constantine is psychological suspense at its finest. Full of dark secrets and surprising twists, Constantine's latest thriller leads readers down a pulse-pounding path of lies, hidden motives, and deadly intentions. An addictive, unputdownable read."
— Heather Gudenkauf, New York Times bestselling author of The Weight of Silence and This is How I Lied

"With the author's trademark flair for mind-bending plot twists, The Stranger in the Mirror takes readers on a wild ride. Twisty, dark, and psychologically compelling, this is a Liv Constantine novel you do not want to miss!"
— Wendy Walker, bestselling author of Don't Look for Me

"Diabolical and twisty, THE STRANGER IN THE MIRROR is a tense thriller that will keep you compulsively turning pages well past your bedtime. A story of love and manipulation in which you won't know who to trust or how the story will resolve until the shocking finale. THE STRANGER IN THE MIRROR proves, once again, that the dynamic duo writing as Liv Constantine is at the top of their game."
— Julie Clark, New York Times bestselling author of The Last Flight

"I devoured this twisty, chilling, and hypnotic thriller in just two feverish sittings, desperate to guess what was going to happen next (but failing!) Told from shifting perspectives, THE STRANGER IN THE MIRROR is not only a propulsive, psychological suspense with heart-pounding twists, it's also a richly-drawn, riveting story about a woman with amnesia, frantic to recover her identity in a house-of-mirrors world where nothing is what it seems." 

— May Cobb, author of The Hunting Wives

"Liv Constantine never fails to deliver, and The Stranger in the Mirror is no exception. The one takes the old trope of a woman losing her memory and twists it into something new. Be prepared to stay up late reading this one!"
— Samantha Downing, USA Today bestselling author of My Lovely Wife.

"A deliciously disorienting psychological thriller that will keep mystery lovers second-guessing everything they read as they struggle to unravel the complex tapestry of Addy's life."
— Library Journal

"Another twisty and unsettling domestic psychological thriller. . . . from established book-club favorite Liv Constantine. . . . A tony drama, certain to appeal to fans of the genre."
— Booklist

"A fast, fun read for domestic thriller fans."
— Kirkus Reviews

"In true Liv Constantine fashion, nothing is as it seems. . . . If a tense and twisted plot is your thing (it's definitely mine) then you need to add this to your reading list right away!"
— Suspense Magazine

Praise for The Wife Stalker: "This psychological thriller told from multiple viewpoints had me gasping in surprise."
— Good Morning America

"Liv Constantine plants her flag squarely in land staked out by the likes of Lisa Gardner and Karin Slaughter with The Wife Stalker, a romantic thriller of rare depth and poise. . . . The Wife Stalker keeps you reading, and guessing, from the first page to the last. A sumptuous and scintillating read that disguises its secrets with a master's touch."
— Providence Journal

Praise for The Last Time I Saw You: "Murder, threats and forgotten friendships come together in this thriller, from the author of the 2018 hit book The Last Mrs. Parrish."
— Newsweek, "Best Books of 2019 So Far"

"From murder and madness to secrets and fraught family relationships, the non-stop glitz gives this tale soapy sheen that makes for perfect escapist summer reading."
— New York Journal of Books

Praise for The Last Mrs. Parrish: "[A] wicked debut thriller . . . you'll relish every diabolical turn."
— People