The Christmas Dare: A Twilight, Texas Novel (Hardcover)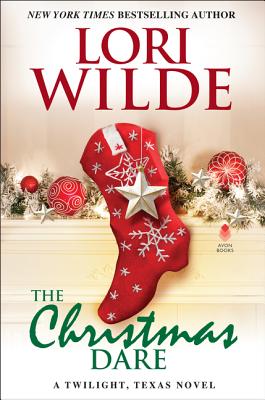 $26.99
In Stock at Our Warehouse - Usually Ships in 1-5 Days
Staff Reviews
---
I listened to The Christmas Dare as an audiobook. The narrator is good. There's a slight Texas twang for the dialogue, but it's not that overexaggerated drawl you're always afraid of if you're from Texas. Overall, I liked this book, so I'm going to start with the positives so as not to give the wrong impression. The romance is great. It's a reconnected lovers story, which I'm a fan of, if done right. This one is. The hero and heroine both have flaws they have to overcome, but are essentially good people.
The heroine's mother, however, has some serious issues, and causes her own problems. The author actually takes the opportunity to delve into a mental health issue, and I appreciate that, though I would have liked the explanation a little earlier. I spent most of the book wondering what the heck was wrong with that woman and hating her. There's also a background romance with the heroine's best friend, and I hope there's at least a novella that goes into it, because I'm interested about what was happening off page.
What I didn't like: There were two overriding themes that just got beat to death, and they're both in the title. Obviously, there was going to be Christmas and at least one dare. But by the end, every time I heard "Christmas" or "dare", I wanted to puncture my eardrums. This may just be a thing in cutesy Christmas romances, but it's a thing I don't love. If repetition of phrases won't make you bonkers, though, I do recommend this book for your holiday reading.
— Anna Brown - Katy Budget Books
Description
---
A jilted-at-the-altar bride reunites with her high school sweetheart in Lori Wilde's sensational new Twilight, Texas Christmas novel.


Kelsey James always played by the rules and look where it got her—dumped and half-drunk in a poofy white dress, her Christmas wedding ruined. Then her best friend talks her into going on her "honeymoon" anyway, daring her to a "Christmas of Yes."  It's about time she lets loose a little, so Kelsey agrees to say "yes" to fun, to romance, and to adventure! And adventure leads her right smack into the arms of sexy Noah MacGregor.
Noah's never one to say no to a risk—from leading his NBA team to victory to making Christmas cookies in Twilight, he's up to the challenge! But a lot has gone on since they were teenagers, and he knows he has to take his time to make Kelsey dare to believe that what they feel is more than just the holiday magic that's in the air . . .
About the Author
---
Lori Wilde is the New York Times, USA Today and Publishers' Weekly bestselling author of 87 works of romantic fiction. She's a three-time Romance Writers' of America RITA finalist and has four times been nominated for Romantic Times Readers' Choice Award. She has won numerous other awards as well. Her books have been translated into 26 languages, with more than four million copies of her books sold worldwide. Her breakout novel, The First Love Cookie Club, has been optioned for a TV movie.
Lori is a registered nurse with a BSN from Texas Christian University. She holds a certificate in forensics and is also a certified yoga instructor.
A fifth-generation Texan, Lori lives with her husband, Bill, in the Cutting Horse Capital of the World; where they run Epiphany Orchards, a writing/creativity retreat for the care and enrichment of the artistic soul.
Praise For…
---
"A joyful, romantic Christmas read…"
— Kirkus Reviews

"…An absolute crowd-pleaser…  The magnetism between Naomi and Mark is breathtaking and real, the magic of Christmas enhances their romance. Readers will cheer for the wounded warrior who may have found a place to call home."
— Publishers Weekly (starred review)

"...Wilde explores the subject of PTSD with great empathy and insight...together with the author's usual superbly nuanced characters, layers of emotion, and exquisite sexual tension, and you have a heart-wrenching and heartwarming tale that beautifully encapsulates all the love, hope, faith, and forgiveness of the holiday season."
— Booklist (starred review)

"A wonderful story… The ending will leave readers with the desire to make return visits to Jubilee, Texas."
— RT Book Reviews, 4 stars

"Readers craving stories of finding a happily ever after will be thrilled by everything The Christmas Cookie Collection has to offer. [...] It's a wonderful book to celebrate with."
— RT Book Reviews

"Delicious details, a small town full of memorable characters, great dialogue, and humor all combine to make this a highly enjoyable tale about two people who find healing--and each other."
— Booklist on All of Me

"Lori Wilde has created a rich and wonderful story about the charm of small town life combined with the power and passion of first love. Delicious!"
— Robyn Carr

"I love Lori Wilde's Cupid, Texas series and can't wait to read this next one."
— Parade Magazine online, Summer Beach Reads pick

"…A a superbly executed contemporary romance. From the book's richly nuanced characters to its heartwarming small-town setting, each element plays off the others in perfect harmony. And when it comes to striking exactly the right balance between sweet and sexy, Wilde has the equivalent of perfect pitch."
— Booklist

"sweet…balancing intense emotions with heartwarming family moments."
— Kirkus Reviews

"Christmas at Twilight is a wonderful heartwarming story not to be missed. The characters are written with compassion as the love between the couple grows."
— RT Book Reviews (4 Stars)