The Virgin and the Rogue: The Rogue Files (Mass Market)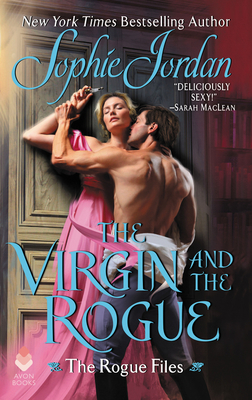 $9.35

Backordered - Availablilty Will be Delayed
Description
---
USA Today Bestseller
"It is a truth universally acknowledged that the young lady everyone assumes is mousy has uncharted depths... particularly when there's a scientific sister, an aphrodisiac, and the stepbrother of a duke around. Creative, unique, and racy --this story is not unlike the very elixir around which it is based."--Jodi Picoult, New York Times bestselling author of Small Great Things and A Spark of Light

Continuing her bestselling Rogue Files series, Sophie Jordan brews up a scintillating romance about a timid wallflower who discovers a love potion and ends up falling for a dashing rogue.

A love potion…
Charlotte Langley has always been the prudent middle sister, so her family is not surprised when she makes the safe choice and agrees to wed her childhood sweetheart. But when she finds herself under the weather and drinks a "healing" tonic, the potion provokes the most maddening desire…for someone other than her betrothed.
With the power…
Kingston's rakehell ways are going to destroy him and he's vowed to change. His stepbrother's remote estate is just the place for a reformed rogue to hide. The last thing he wants is to be surrounded by society, but when he gets stuck alone with a wallflower who is already betrothed... and she astonishes him with a fiery kiss, he forgets all about hiding.
To alter two destinies.
Although Charlotte appears meek, Kingston soon discovers there's a vixen inside, yearning to break free. Unable to forget their illicit moment of passion, Kingston vows to relive the encounter, but Charlotte has sworn it will never happen again—no matter how earth-shattering it was. But will a devilish rogue tempt her to risk everything for a chance at true love?
About the Author
---
Sophie Jordan grew up in the Texas hill country where she wove fantasies of dragons, warriors, and princesses. A former high school English teacher, she's the New York Times, USA Today, and international bestselling author of more than thirty novels. She now lives in Houston with her family. When she's not writing, she spends her time overloading on caffeine (lattes preferred), talking plotlines with anyone who will listen (including her kids), and cramming her DVR with anything that has a happily ever after.  
Praise For…
---
"It is a truth universally acknowledged that the young lady everyone assumes is mousy has uncharted depths...particularly when there's a scientific sister, an aphrodisiac, and the stepbrother of a duke around. Creative, unique, and racy -- this story is not unlike the very elixir around which it is based." — Jodi Picoult, New York Times bestselling author of Small Great Things and A Spark of Light
"The sixth in the Rogue Files series is a lusty reversal of the rake-and-the-wallflower trope. A refreshing dose of fun—and the best in the series." — Kirkus Reviews (starred review)