Goodnight Beautiful: A Novel (Hardcover)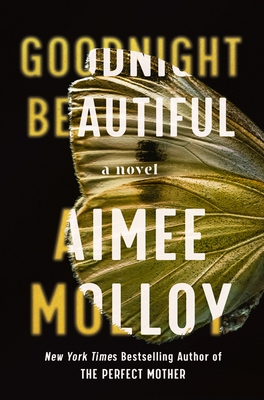 Staff Reviews
---
A psychological thriller with an actual psychologist who goes missing. Has plenty of twists and turns and surprises to keep you guessing. The audio version is fantastic and the actors really bring the story to life.
— Missy H- Katy Budget Books
November 2020 Indie Next List
---
"A good-looking couple from New York City move upstate for a slower lifestyle, but things quickly take a turn when the husband goes missing. When Sam Statler, a therapist with a range of diverse clients, doesn't come home, his wife, Annie, is desperate to find him and begins to suspect one of his clients. As secrets unravel, Molloy keeps the reader excited and engaged in this intriguing thriller."
— Deanna Bailey, Story on The Square, McDonough, GA
Description
---
A Most Anticipated Book by: Crime Reads, Buzzfeed, Popsugar, Bustle, New York Post

From "master of clever misdirection" (Kirkus Reviews) Aimee Molloy, author of the New York Times bestseller The Perfect Mother, comes an irresistible psychological thriller featuring a newly married woman whose life is turned upside down when her husband goes missing.
A handsome psychotherapist. His lonely wife. And in his home office ceiling, a vent …
You'd listen too, wouldn't you? (You know you would.)
Newlyweds Sam Statler and Annie Potter are head over heels, and excited to say good-bye to New York City and start a life together in Sam's sleepy hometown upstate. Or, it turns out, a life where Annie spends most of her time alone while Sam, her therapist husband, works long hours in his downstairs office, tending to the egos of his (mostly female) clientele. Little does Sam know that through a vent in his ceiling, every word of his sessions can be heard from the room upstairs. The pharmacist's wife, contemplating a divorce. The well-known painter whose boyfriend doesn't satisfy her in bed. Who could resist listening? Everything is fine until the French girl in the green mini Cooper shows up, and Sam decides to go to work and not come home, throwing a wrench into Sam and Annie's happily ever after. 
Showcasing Molloy's deft ability to subvert norms and culminating in the kind of stunning twist that is becoming her trademark, Goodnight Beautiful is a thrilling tale of domestic suspense that not only questions assumptions but defies expectations.
About the Author
---
Aimee Molloy's debut novel, The Perfect Mother, was a New York Times bestseller, and has been translated into more than twenty languages. She lives in Western Massachusetts with her family.
Praise For…
---
"Constructed with house-of-cards precision, this cunning story surges forward as though powered by outboard motor. But Molloy proves equally skilled in the elusive arts of character and dialogue: Goodnight Beautiful isn't only the most suspenseful novel you'll read this year; it's likely to be the funniest, too. I wish that every book, in every genre, were as deeply imagined and fully inhabited as this one."
— AJ Finn, author of The Woman in the Window

"Deliciously twisty. . . .  The author has fun toying with the conventions of gender in pop culture, and the assumptions we make. It adds up to a book you'll read late into the night, trying to figure out where the next twist will take you."
— Associated Press

"Aimee Molloy is a magician. With Goodnight Beautiful, she will artfully deceive you while holding you firmly in her grasp. . . . What begins as a sexy, smart domestic thriller turns out to be so much more. If you think you've figured this one out, think again: Molloy will be three steps ahead of you all the way through."
— Cristina Alger, author of Girls Like Us

"A tense read that expertly employs misdirection and multiple points of view to create some truly surprising twists à la Gone Girl. The first of these twists is shocking enough to make you question everything you just read. At the same time, Goodnight Beautiful subverts gender norms and flips the trope of the unreliable female narrator on its head."
— Buzzfeed

"This is a psychological thriller you'll think you have all figured out—but I promise you, you don't."
— Parade

"Molloy employs some of the most believable and jaw-dropping narrative twists since Gillian Flynn's Gone Girl in this smart, single-sitting read. Readers will be flipping back to see just how she performed the sleight of hand right in front of their eyes. Along with a rip-roaring suspense plot, Molloy adds depth with critiques of gender conventions that causes readers to investigate the assumptions they bring to the text. She breathes new life into the unreliable narrator thriller genre in a book everyone will be talking about."
— Library Journal

"Thriller fans love 'twists' that make them think 'wow, didn't see that coming.'… Molloy sends readers on a whiplashing mystery ride that turns that whole convention inside out… What distinguishes Goodnight Beautiful is Molloy's spectacular feat of misdirection and uncanny success in unfolding revelations that are surprising yet believable from the early pages until the very last."
— New York Journal of Books

"[A] crafty page-turner…. Psychological thriller fans won't want to miss this one."
— Publishers Weekly

"A domestic thriller with bite."
— Popsugar

"A remarkable and groundbreaking thriller. Molloy grabs you by the throat and doesn't let go until the final mind-bending, utterly astounding twist."
— Liv Constantine, author of The Last Mrs. Parrish