The Binding: A Novel (Hardcover)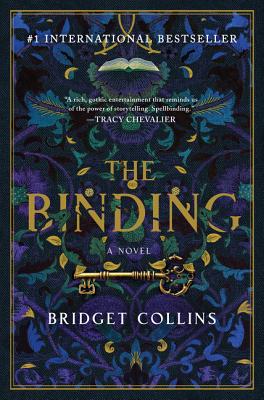 $26.99

In Stock at Our Warehouse - Usually Ships in 1-5 Days
Staff Reviews
---
I wish I could give this book an 11 out of 10. Seriously, it was THAT good. The idea behind the concept of binding peoples' memories into books is truly unique. The development of the two main characters, Emmett and Lucien, is so in depth and realistic and relatable. I had such a fun time getting to know them. This book is technically considered Magical Realism, but when compared to other Magical Realism authors The Binding comes across as straight up fantasy. 10/10 would recommend. Huge plot twist. I won't give anything away. BUT READ THIS NOW!!!
— Caty Christy - Katy Budget Books
May 2019 Indie Next List
---
"An absolutely gorgeous novel! Collins writes Emmett in such a way that readers will experience his confusion and frustration and then have it unknotted simultaneously as his tale unfolds. The three parts of the novel are brilliantly ordered to deliver a powerful tale that will tear your heart to pieces slowly and, in one spectacular scene, mend it completely with hope and love. Do Binders provide healing and comfort, or are they wicked magicians determined to leave you empty? What are you willing to risk for someone you love?"
— Angela Shores, Adventure Bound Books, Morganton, NC
Summer 2020 Reading Group Indie Next List
---
"The Binding is a dark, atmospheric, heart-wrenching tale in which the binding of people's memories into books helps them forget their darkest traumas and protect them from their crimes. The more Collins' intricate, magical tale unwinds, the more dangerous and unruly the practice of 'binding' becomes. At its core, this is a story about the beauty and power of books. Ethics, emotion, and magic abound in this triumphant, beautifully woven must-read for any book lover or hopeless romantic (or both)."
— Jackie Mann, Anderson's Bookshops, Naperville, IL
Description
---
NATIONAL BESTSELLER
A NEW YORK TIMES BOOK REVIEW EDITORS' CHOICE
Proclaimed as "truly spellbinding," a "great fable" that "functions as transporting romance" by the Guardian, the runaway #1 international bestseller
"A rich, gothic entertainment that explores what books have trapped inside them and reminds us of the power of storytelling. Spellbinding." — TRACY CHEVALIER
Imagine you could erase grief.
Imagine you could remove pain.
Imagine you could hide the darkest, most horrifying secret.
Forever.
Young Emmett Farmer is working in the fields when a strange letter arrives summoning him away from his family. He is to begin an apprenticeship as a Bookbinder—a vocation that arouses fear, superstition, and prejudice amongst their small community, but one neither he nor his parents can afford to refuse.
For as long as he can recall, Emmett has been drawn to books, even though they are strictly forbidden. Bookbinding is a sacred calling, Seredith informs her new apprentice, and he is a binder born. Under the old woman's watchful eye, Emmett learns to hand-craft the elegant leather-bound volumes. Within each one they will capture something unique and extraordinary: a memory. If there's something you want to forget, a binder can help. If there's something you need to erase, they can assist. Within the pages of the books they create, secrets are concealed and the past is locked away. In a vault under his mentor's workshop rows upon rows of books are meticulously stored.
But while Seredith is an artisan, there are others of their kind, avaricious and amoral tradesman who use their talents for dark ends—and just as Emmett begins to settle into his new circumstances, he makes an astonishing discovery: one of the books has his name on it. Soon, everything he thought he understood about his life will be dramatically rewritten.
An unforgettable novel of enchantment, mystery, memory, and forbidden love, The Binding is a beautiful homage to the allure and life-changing power of books—and a reminder to us all that knowledge can be its own kind of magic.
About the Author
---
Bridget Collins trained as an actor at the London Academy of Music and Dramatic Art after reading English at King's College, Cambridge. She is the author of seven acclaimed books for young adults and has had two plays produced, one at the Edinburgh Festival Fringe. The Binding is her first adult novel. She lives in Kent, United Kingdom.
Praise For…
---
"Intense, immersive. . . . A stirring, highly original piece of storytelling and world-making."
— Sunday Times (UK)

"Bookbinders capture souls in this fantasy's bleak Dickensian world. The novel's most horrifying victim is the starving mother who doesn't recognize her children because she had to sell her memories of them."
— New York Times, 󈫺 New Books We Recommend This Week"

"The Binding is a dark chocolate slice of cake with a surprising, satisfying seam of raspberry running through it. It is a rich, gothic entertainment that explores what books have trapped inside them and reminds us of the power of storytelling. Spellbinding."
— Tracy Chevalier, bestselling author of Girl with a Pearl Earring

"The Binding succeeds in creating the magic it proposes: the experience of memory returning, a rush of recollection that can change the whole world, if only for one person at a time — or sometimes two."
— Naomi Novik, The New York Times Book Review

"Everyone keeps calling this novel spell ~binding~ and they! are! not! wrong! A true epic in every sense of the word."
— Cosmopolitan

"The Binding held me captive from the start and refused to set me free. It's a beautifully crafted tale of dark magic and forbidden passion, where unspeakable cruelty is ultimately defeated by enduring love. Breathtaking!"
— Ruth Hogan, author of The Keeper of Lost Things

"Pure magic. The kind of immersive storytelling that makes you forget your own name. I wish I had written it."
— Erin Kelly, author of He Said/She Said

"Truly spellbinding... Many readers of The Binding will simply sink gratefully into the pleasures of its pages, because, like all great fables, it also functions as transporting romance."
— The Guardian

"A captivating fantasy novel with forbidden love at its heart."
— Good Housekeeping (UK)

"The new 'Have you read The Miniaturist' will be 'Have you read The Binding?' … 'Gorgeous' and 'spellbinding' is the consensus among those who've already devoured it."
— Grazia, "The 2019 Hot List"

"More of an experience than a book, written with such grace and wisdom. Utterly brilliant."
— Joanna Cannon, author of The Trouble with Goats and Sheep

"An original concept, beautifully written. Collins' prose is spellbinding."
— Laura Purcell, author of The Silent Companions

"A moving, spellbinding book with a powerful love story at its heart and one of the best twists I've read in a long time. I fell into and inhabited and loved it. Such a deeply enjoyable and nourishing novel."
— Sandra Newman, author of The Heavens

"Intriguing, thought-provoking and heartbreaking … what a gorgeous book."
— Stella Duffy

"Beguiling … Dark and atmospheric."
— inews.co.uk

"What an astounding book … something entirely of its own. Brilliant concept, truly extraordinary writing and a killer plot."
— Anna Mazzola, author of The Unseeing

"A compulsive mix of historical and gothic fiction."
— Wiltshire Living

"A real treat . . . gothic, imaginative and dark."
— The Times (UK)

"Beguiling and mysterious … dark and atmospheric … The Binding is the kind of novel that practically demands fireside reading."
— The Herald (Glasgow)

"Using evocative language to express a lovingly told tale of lost memories, Collins wraps her story of a passionate, forbidden relationship in mystery and magic."
— Booklist

"The Binding is an imaginative, thought-provoking tale of how—for better and worse—moments can define who we become."
— BookPage