The It Girls: A Novel (Hardcover)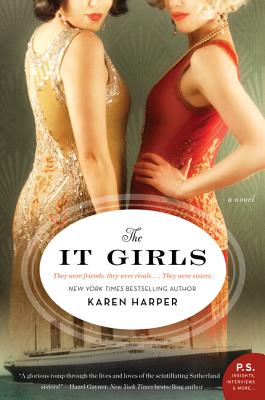 $25.99

In Stock at Our Warehouse - Usually Ships in 1-5 Days
Staff Reviews
---
I used to think I didn't enjoy historical fiction, but it turns out I was just reading the wrong ones. I loved this story of the Sutherland sisters, even though I didn't realize until about halfway through that they were real people. It just made it better. I've been trying to read more books lately about women who refuse to give in to convention, because they inspire me. The It Girls definitely fit the bill. Lucille and Eleanor Sutherland were not going to be tied down by "acceptable behavior". One of them survived the sinking of the Titanic, the other became a renowned authoress. I thoroughly enjoyed this fictionalized account of their lives and recommend it to anyone who loves historical fiction or just novels with strong female characters.
— Anna Brown - Katy Budget Books
Description
---
From New York Times bestselling author Karen Harper comes a novel based on the lives of two amazing sisters . . .
One sailed the Titanic and started a fashion empire . . .
The other overtook Hollywood and scandalized the world . . .
Together, they were unstoppable.
They rose from genteel poverty, two beautiful sisters, ambitious, witty, seductive. Elinor and Lucy Sutherland are at once each other's fiercest supporters and most vicious critics.

Lucy transformed herself into Lucile, the daring fashion designer who revolutionized the industry with her flirtatious gowns and brazen self-promotion. And when she married Sir Cosmo Duff-Gordon her life seemed to be a fairy tale. But success came at many costs—to her marriage and to her children . . . and then came the fateful night of April 14, 1912 and the scandal that followed.
Elinor's novels titillate readers, and it's even asked in polite drawing rooms if you would like to "sin with Elinor Glyn?" Her work pushes the boundaries of what's acceptable; her foray into the glittering new world of Hollywood turns her into a world-wide phenomenon. But although she writes of passion, the true love she longs for eludes her.
But despite quarrels and misunderstandings, distance and destiny, there is no bond stronger than that of the two sisters—confidants, friends, rivals and the two "It Girls" of their day.
About the Author
---
New York Times and USA Today bestselling author KAREN HARPER is a former Ohio State University instructor and high school English teacher. Published since 1982, she writes contemporary suspense and historical novels about real British women. Two of her recent Tudor-era books were bestsellers in the UK and Russia. Harper won the Mary Higgins Clark Award for Dark Angel, and her novel Shattered Secrets was judged one of the best books of the year by Suspense Magazine.
Praise For…
---
"The It Girls is a glorious romp through the lives and loves of the scintillating Sutherland sisters. Karen Harper does a wonderful job of bringing Lucile and Elinor to life in this richly imagined and impeccably researched novel. Readers who enjoy historical fiction are in for a treat!"   — Hazel Gaynor, New York Times bestselling author of The Girl Who Came Home
"[...] fans of Kathleen Tessaro and Penny Vincenzi will enjoy the layers of intrigue and the sweeping plot. Harper's ability to shift between raw ambition and tender compromise makes this family-focused novel a genuine delight." — Booklist
"In this fictionalized biography, Harper defines "it" as the charm and charisma that defined the Sutherland sisters. Not only is this a fabulous portrait of the time, but it is also a deftly crafted portrait of the complexity of sisterhood." — RT Book Reviews (starred)